The hubby and I booked a vacation someplace warm…yeeehaw!  Of course, that means I will need to don a swimsuit. 
Oh dear.
I seem to have acquired a few extra pounds during this busy season at work due to lack of exercise and lack of self control in eating copious amounts of chocolate, cheese, and other fat inducing substances.
It has become apparent that I need to resume my exercising and eating of salads.
Oh darn.
I also have a list of things I want to make to wear on said vacation.  I'm going for a mostly black/white theme and hope to be able to pack as few clothes as possible.  I even have all the material sitting in my fabric closet, so I shouldn't need to buy anything.  Yay!
- a flattering swimsuit (if it is truly flattering I may even show you a picture of me in it)  I plan to make two of them – one being my muslin and one out of the fabric I really want it in.
- a swim coverup
- 2 short sleeve black shirts
- a black/white bubble skirt
- potentially a vest out of a turqoise leather shirt I have that I never wear.  Still need to get a good fit on the vest before cutting into leather.  Or maybe I could make a skirt out of it.  I want it to match these shoes: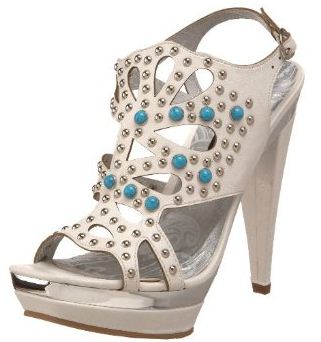 5'7″ + 5″ heels = 6′ of sexy