When taking family pictures, the clothing that everyone wears is pretty important.  It can add or detract from the photos.  I think the best pictures are the ones that show the styles of the period in a good way.  This is why I generally choose to have all our family pictures printed in toned black and white.  Colors can really date a photo…in a bad way…or a good way.
This is an old family photo that I just love.  It shows the clothing of the early 20′s and the expressions on their faces.  Black and white (or sepia in this case) really brings out their personalities in the photos.
The Bride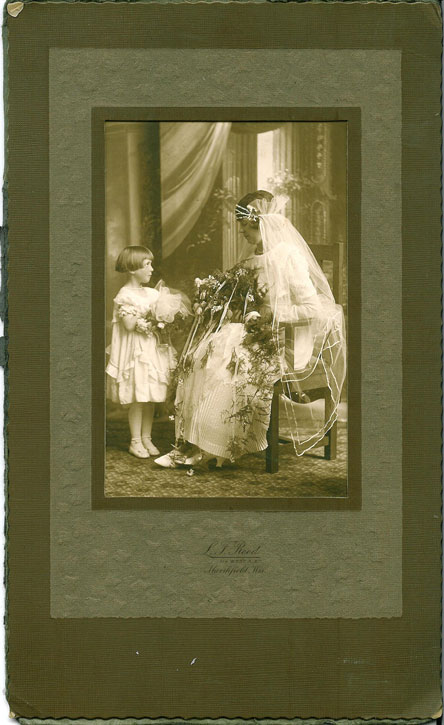 In choosing clothes for us to wear I went with a gray, white, and dark denim theme.  I like to take our pictures in interesting backdrops, so if the clothes clash with everything, then it wouldn't look all that great.  I chose the location to be a tiny little downtown area that has very little traffic.  When setting up a tripod, I generally don't want it to be knocked down by people not paying attention to what's going on around them.
I got the kids' clothes at JCPenny's on sale, along with my dress (on sale!).  I told the hubby his shirt was more than all the rest of our clothes.  He said I need to shop better.  Well…yes.  It was an ultra quick shopping expedition for him, so I just bought and dealt with the price.  I'll plan better next time!  ; )
Here is a color photo in front of a old restored gas station.  While I love the photo, I probably wouldn't print it huge.  Reason?  Well, what do you think our offsprings' offspring would think of us taking a photo in front of a gas station all dressed up??  Yeah…that's what I thought LOL!  C.R.A.Z.Y.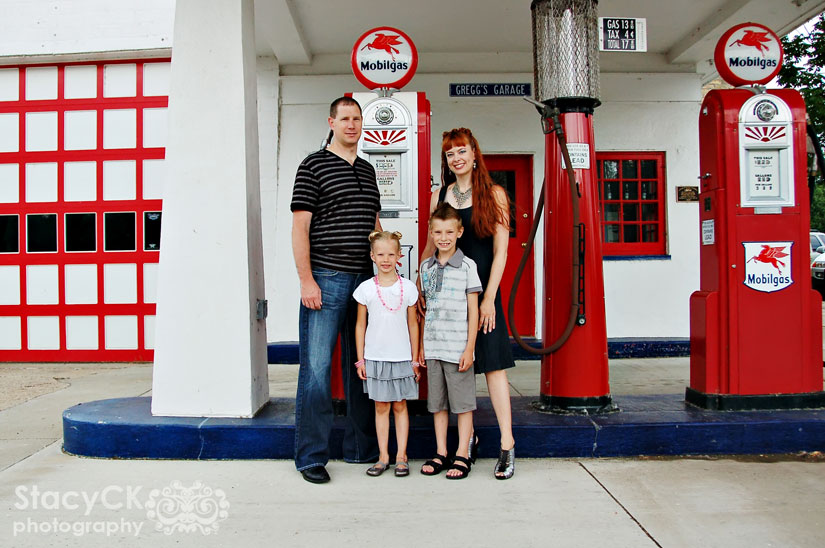 This is the keeper.  A toned black and white, showing our personalities and not too trendy.  It's going on a canvas, and hopefully the print is good quality.  I bought one of those group deals and I have never heard of the company before.  I guess we shall see!