As I clearly do not have enough on my plate, as is, I volunteered to test another pattern.  Luckily it was a quickie, and luckily the Boy got something out of the pattern testing this time!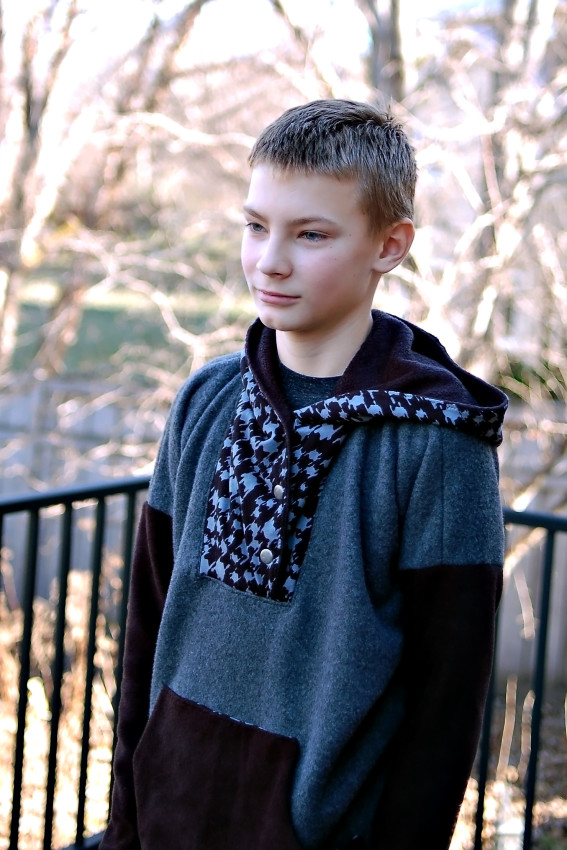 This is the Tribute Hoodie by Little Finch Patterns.  It is very quick to put together, and the sizing was fairly good.  The Boy exceeded the height requirements for the size 16, so I added an extra 2″ to the body of the gray hoodie (made the blue one first).  She has also widened the arms on the final pattern.
The hoodie here is made out of gray and black fleece and a cotton lycra knit for the patterned fabric.  I was trying to use up some bits and pieces of fabric, so that is why there are many different ones on this pattern.  The black fleece is two different fabrics.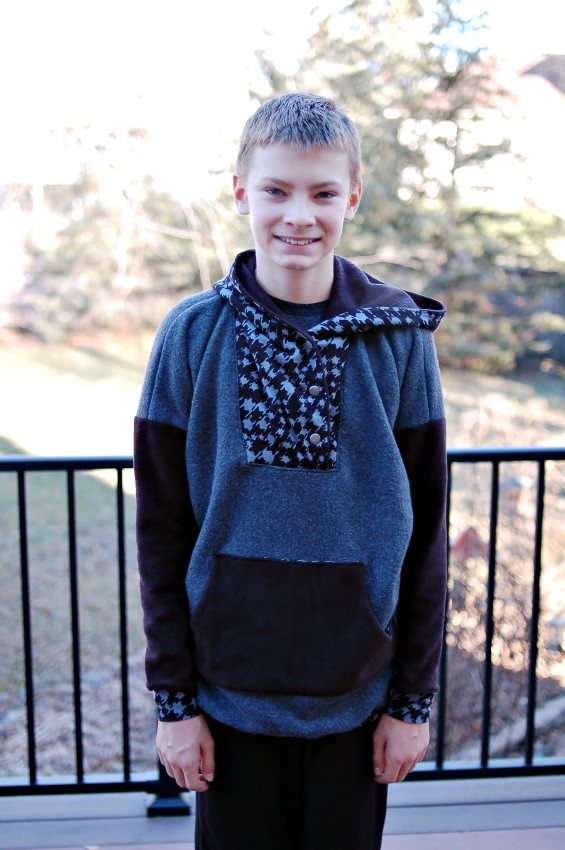 This hoodie is made out of a blue fleece and a cotton lycra knit for the patterned fabric.
Just a few notes:
She widened the arms on the final pattern for the larger sizes, which was needed.  Unless I missed it no one tested the widened arms.  I looked at the final pieces and they look wider than the initial one, but just check to see if it looks reasonable against a shirt that you know fits.
The hood is basically the same depth for a 12-18 month size as the size 16.  Big, big hood on little ones.
On the placket attachment, it is squared off on the pattern piece, but she has you just go around the whole thing in one shot.  That rounds the edges. If you want it to look squared off like I did, cut a diagonal slit at the bottom of the square on the front piece.  Pin and serge one at a time, the bottom piece and then the rest of the way around.  Topstitch.
She wanted some girl tunic tests, too, so I made one for the Girl.  Again, the arms were too tight on the tester version.  Still, a cute hoodie and should be nice and warm.
Now I need to focus on getting some gifts made and some dressy clothes for the Orchestra concert next week.  Lots of irons in the fire, as usual!
Hope everyone had a wonderful Thanksgiving. 😀